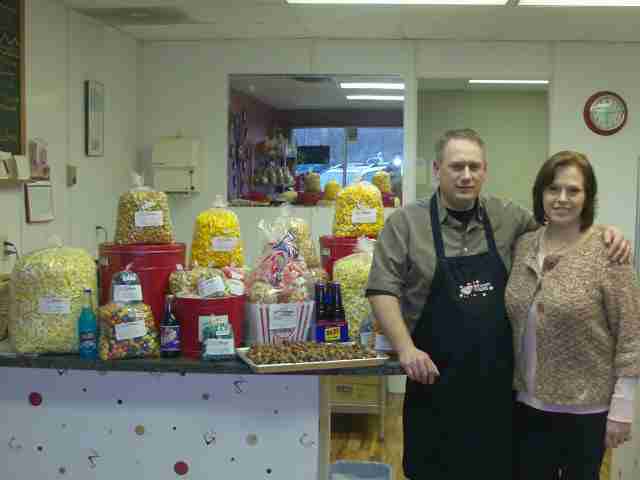 Pop Around The Clock is a small gourmet popcorn shop owned by Chris and Amy Bruggeman of Vincennes, Indiana. We make over 50 different flavors of fresh candy coated and savory flavored popcorn as well as popcorn treats. All of our products are made fresh in our shop using high quality wholesome ingredients with no preservatives.  We use premium gourmet popcorn grown just down the road from where we live in Indiana. Our store opened on March 27th, 2009. Since then we have served thousands of customers and made tons of popcorn. The 12 flavors that we started with that first day just weren't enough. We are constantly trying new ingredients and flavor combinations hoping to come up with something new that everyone will love.

The people of Vincennes have a long love affair with Caramel Corn, and we promise not to disappoint. We have some of the best Caramel Corn you will find anywhere! For those who prefer fine toffee, you will appreciate our made from scratch real Butter Toffee popcorn. Or, if you like nuts and chocolate try one of our Deluxe Flavors like Double Drizzle Cashew Crunch or Cinn-A-Bun.  Our Deluxe Flavors have quickly become fast favorites with our customers. One taste will leave you wanting more. Cookies and Cream, and Caramel Turtle Crunch are just some of the Deluxe Flavors you will want to try. We also make fresh drizzled real Cheddar Cheese popcorn known as Oh So Cheesy!
Since opening, we have shipped popcorn across the U.S.A. and around the world. From New York to California, and from Taiwan to Iraq. Our popcorn brings a flavor to people that remind them of simpler times. Times when making popcorn was something that Mom, Dad, Grandma and Grandpa did as a special treat. Simple ingredients combined lovingly, bringing smiles and reminding folks how things used to be.
That's what we do at Pop Around the Clock                                 
Ask us about popcorn favors for your next party, shower, school function, or reception. We also custom make Gift Baskets, Popcorn Tins, and Corporate Gifts.  Call or email us for a custom quote for these special occasions.
Our popcorn has also become popular with schools and other groups who are tired of the same old fundraisers. Pop Around The Clock Fundraisers have proven to be a taste that your friends and family will appreciate.  Click here to contact us by email or to call our store for more information.
"Eat More Popcorn……The Original Wholegrain Snack"TM